We currently offer four, fine quality Albacore Tuna products to both our large scale commercial buyers and our local retail consumer. We sell by the tote, fish, fillets by the pound (1 fish minimum), or by the can.
---
"Loins"
This refers to the tuna in fillet form… we fillet the fish after the boat lands at port. See pricing.
---
"In the round"
This refers to a tuna in the whole form… right off the boat, you fillet. TUNA FILETTING EXPERIENCE STRONGLY RECOMMENDED. See pricing.
---
"By the Tote"
Consider buying a full tote of tuna for the best price. One tote weighs about 1250lbs of whole fish. This will yield about 650lbs of loins after filleting, depending on the skill of the cutter of course. One tote fits nicely in a full-size pickup with 6′ bed. Two totes can fit in an 8′ bed and won't require any ice or cooling for up to 24 hours during transport.
---
Want to skip all of that!?
We also have our very own premium canned product that comes in "lightly salted" or "garlic" flavors. This isn't your typical grocery store variety, our canned tuna product is like no other canned tuna you've had before!
---
Lightly Salted
---
Garlic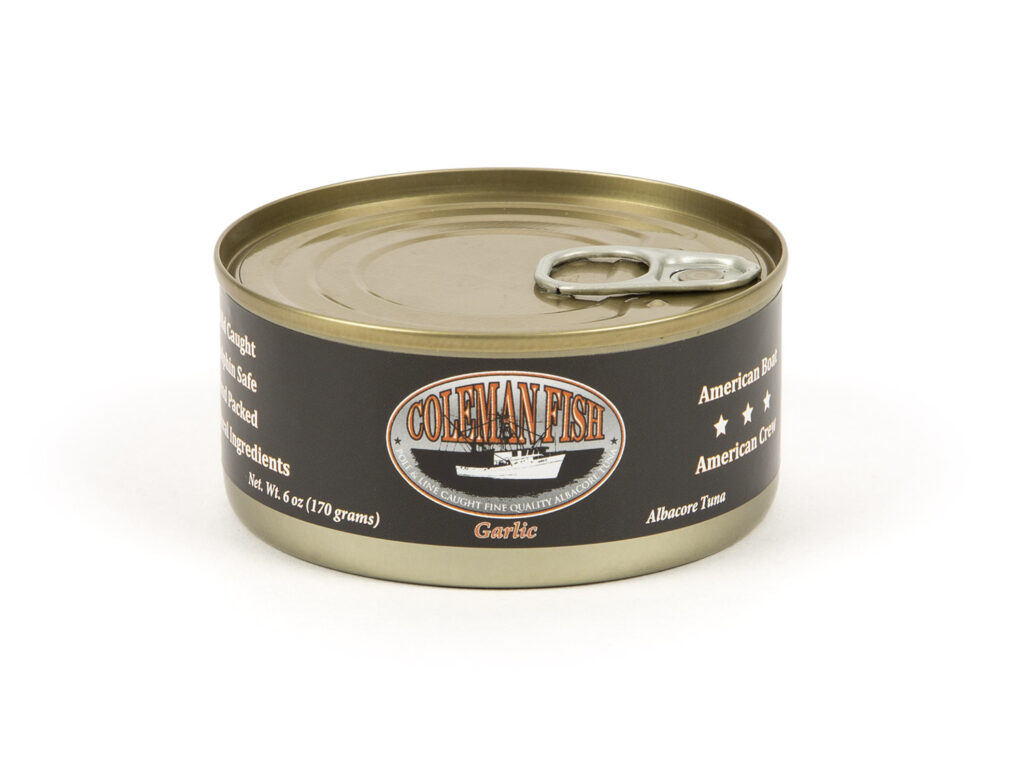 Pricing is per 1, 6oz can, shipping is additional.
1/$7 | 3/$20 | 4/$25 | 10/$60 | 24 (case)/$140
---
Merchandise
Take your pick between the Coleman Fish or Julia C hoodies!
$30/each